Trends Increasing the Market Opportunities of Retail POS: Cognitive Market Research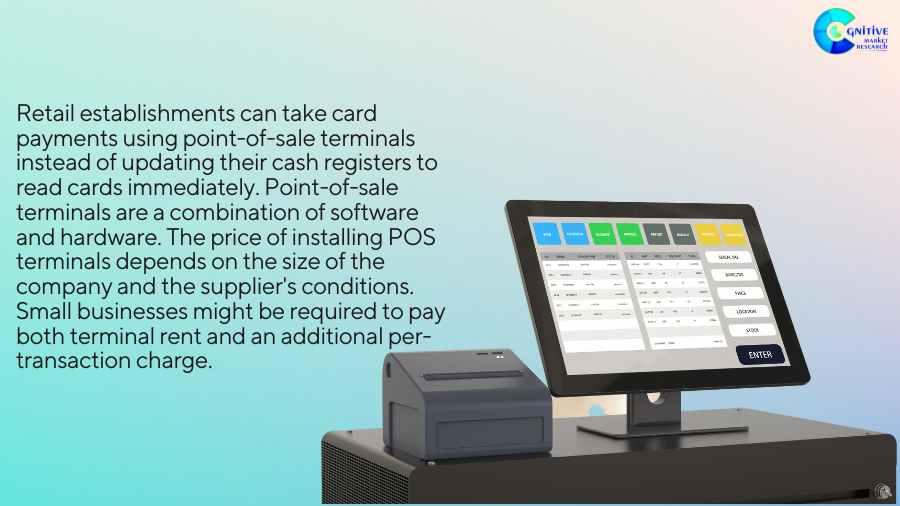 In the past few years, the opportunities for the POS terminals market have expanded significantly, propelled by important developments in payment technologies. Many reasons, including the point of sale (POS) technology's increasingly widespread use and user-friendliness, have led to a rise in the implementation of these systems throughout a variety of sectors. Additionally, the product's wide range of applications, particularly in developing nations, has greatly increased the possibility for the rise of digital payments to reach out to emerging markets and remote locations.
Due to its many advantages, governments worldwide are currently concentrating on building a strong cashless society. Cash-related crimes are less likely to occur and complete records of transactions can be maintained thanks to cashless payments. They assist in decreasing black money, enhance online shopping and transactional user experience, and provide greater transactional and corporate operational transparency, all of which contribute to lower instances of tax avoidance and money laundering.
Why is the Demand for POS Increasing?
According to research, implementing a cashless payment system with the right regulatory measures, like installing POS terminals, protecting against cyber fraud, and running digital literacy initiatives, can help in increasing the growth of a cashless society.
Here are some of the trends that are increasing the market opportunities for POS.
E-commerce Growth is Increasing Opportunities for Retail POS Terminals
The global outbreak of COVID-19 significantly accelerated the implementation of digital technology by causing significant changes in virtually every industry. Additionally, due to mobility issues and growing health and safety concerns, there was a rise in consumer preference for online retailers along with a movement in consumer behavior toward cashless payments.
Additionally, with the rise in customer preference for online and e-commerce channels, a boost in demand for in-store digital payments has been observed to allow secure contactless payments throughout the outbreak. Therefore, the retail POS terminals market is predicted to have significant growth opportunities in the future due to rising consumer usage of digital payments as well as retailers' widespread use of POS terminals & software.
Technological Advancement in POS System
Manufacturers were making investments in the improvement of current products by integrating cutting-edge technologies into POS systems, such as NFC (near field communication), MST (magnetic secure transfer), biometrics, and many others, to meet the varied demands of consumers for payments that are secure and swift. Another vital trend that is creating immense opportunities for POS software is the sector's transition to software-only POS systems, which do not need retailers to make hardware investments.
Rising Popularity of Digital Payments
Current trade involves large payments that can be done quickly over great distances with low costs for transactions, which is primarily what has led to the global digitalization of payment systems. Digital payments manage a number of issues related to the use of currency, like transparency, saves time, and practicality.
Worldwide, governments have implemented stringent rules and procedures to purge the markets of black money. As the usage of cash greatly facilitates the black economy, specialists believe that eliminating it completely could be a possible answer, particularly in areas where the issue is extremely prevalent. A cashless economy reduces the expense of financial services, enhances monetary policy by controlling inflation, and boosts economic growth, making cashless transactions very common in countries with modest economic development.
Conclusion
Due to health, safety, and hygiene concerns following the COVID-19 outbreak, contactless technology experienced an increase in use across numerous industries. The positive contactless payment experiences have significantly boosted POS terminal adoption during the global outbreak. As a result, rising consumer awareness and demand for contactless payments are projected to open up new opportunities for global POS terminal market expansion in the course of time.
Author's Detail:
Aparna Dutta / LinkedIn
Experience in Blog creation, Article Submission and Blog posting. I specialize in writing engaging blog posts for Market research and business insights. A person who believes in the principle of time and works towards perfection.