Shared Mobility and Transformation of Transportation Industry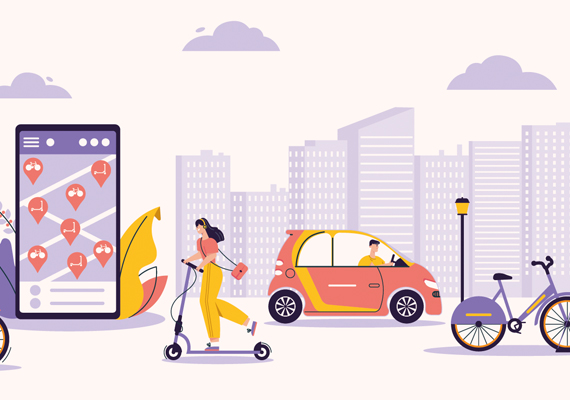 Today we can see in addition to other factors, transportation is also evolving quickly. Although public transit has traditionally been the most popular option, many individuals couldn't resist the allure of owning a car and the possibility of having a completely independent movement. Several new mobility services were launched in the era of digitization. Using shared transportation might eventually be as convenient and typical as streaming music.
What shared mobility truly entail?
Transportation services and other resources that are shared by several users are referred to as shared mobility. They are either utilized simultaneously or in a predetermined order. This encompasses both conventional forms of mobility and the electric scooters, mopeds, bikes, and bicycles you see all over large cities.
In addition to being expensive to acquire and maintain, cars also sap all of the fun out of driving in many metropolitan locations. As a result, cars have emerged as the new favorite shared mode of transportation. Trends in shared mobility indicate that the use of shared transportation is becoming more and more common. It won't stop global automobile sales, though. It can slow down the process and result in fewer automobile sales.
Going more mobile
We should be pleased that the market for shared transportation is booming since it will eventually safeguard us. The emergence of extensive physical networks and the creation of multitasking mobile applications have altered how we view transportation.
Today, we have the ability to change routes, reserve open seats, estimate fares, and even acquire real-time arrival and departure information. The development of carpool apps has become considerably simpler because of developments in electrical and wireless technology. Automobile manufacturers, businesses with venture capital funding, local initiatives, and even rental vehicle agencies are developing better strategies to take advantage of the shared mobility trends. Mobile access will increase customer convenience while also giving your business a more contemporary and polished appearance. Customers may be given authorised access to a vehicle using mobile access control just as quickly as they can lose that access.
What's frontward for shared mobility?
The transportation economy is booming for the last decade. With the ability to customize shared mobility experiences, automotive cloud technology presents intriguing opportunities to capitalize on the trend. If we compare our current public transportation system to that of a few decades ago, we will see that it has advanced in a number of ways. New business models with clear alliances and partnerships between OEMs and mobility service providers are anticipated to develop in response to the increased demand for shared mobility. Based on consumer preferences, legal requirements, and technology development in major economies throughout the world, these new business models are anticipated to take shape.
Market size
In 2019, the worldwide consumer spending on shared transportation was between $130 billion and $140 billion. E-hailing made up the greatest portion of this, accounting for between $120 billion and $130 billion, or more than 90% of the whole industry. Less than 10% of this industry is made up of peer-to-peer vehicle sharing and car sharing services combined, which is due to e-greater hailing's level of convenience.
Thus, shared mobility can help make better use of the resources that are already available. Additionally, fewer automobiles might mean reduced traffic congestion and fatalities. Access to a car is more environmentally friendly than ownership since it allows for unrestricted movement of people and things without harming the environment.