Honeywell Using Sustainable Aviation Fuel at its Pheonix Engine Campus: Cognitive Market Research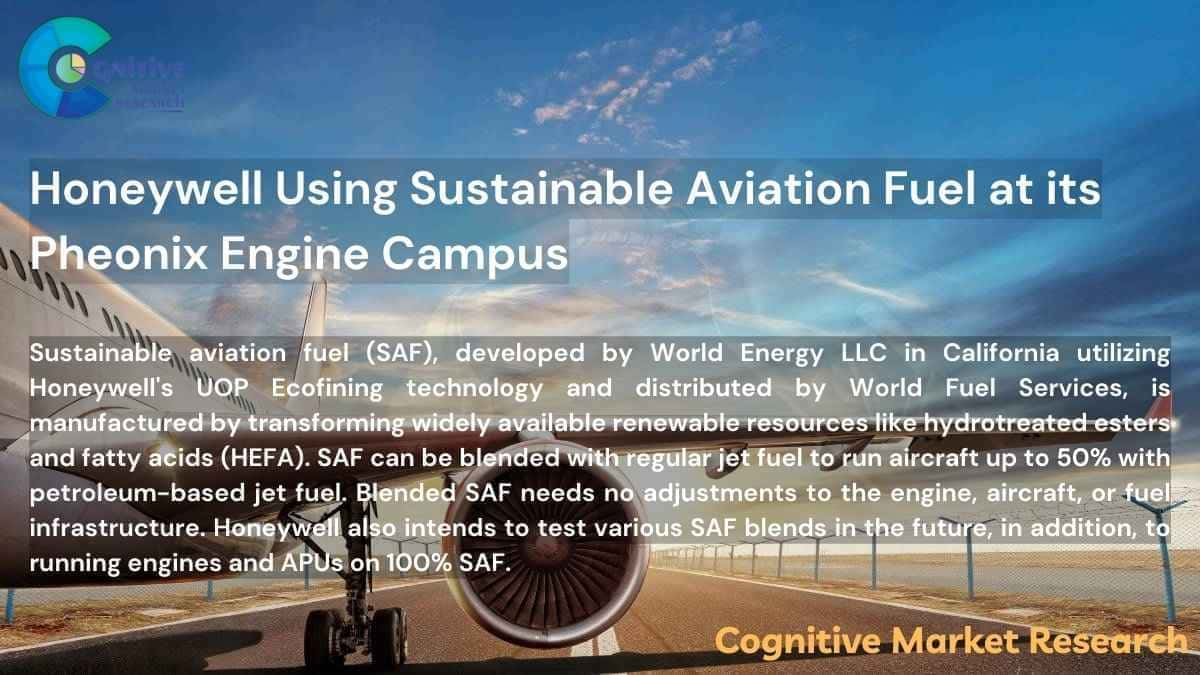 Honeywell's Phoenix Engines site just obtained its first delivery of sustainable aviation fuel. The fuel will be used at the location to assist the development and product evaluation of auxiliary power units (APUs) and propulsion engines, along with the assessment of fielded systems from Honeywell's repair and overhaul facility.
Sustainable aviation fuel (SAF), developed by World Energy LLC in California utilizing Honeywell's UOP Ecofining technology and distributed by World Fuel Services, is manufactured by transforming widely available renewable resources like hydrotreated esters and fatty acids (HEFA). SAF can be blended with regular jet fuel to run aircraft up to 50% with petroleum-based jet fuel. Blended SAF needs no adjustments to the engine, aircraft, or fuel infrastructure. Honeywell also intends to test various SAF blends in the future, in addition, to running engines and APUs on 100% SAF.
According to Dave Marinick, president of Engines and Power Systems, at Honeywell Aerospace, "At Honeywell, we see SAF as a logical path to decarbonize the aviation industry and we consider our facilities as laboratories for sustainable innovation." "Honeywell has a wide variety of ready-now solutions to help create a more sustainable future for the aviation sector, and we are proud to make this progress on our sustainability commitments in our propulsion and power systems portfolio. Running our engines and APUs on SAF is a further demonstration of our commitment to our customers to do our part to reduce our carbon footprint."
Honeywell's first APU flew in 1950, and the business has developed over 100,000 ever since. Over 36,000 APUs, fixed wing and rotary wing, are currently in service in over 150 regional, executive, commercial, and military applications.
Since 1953, Honeywell engines have stood at the forefront of airplane propulsion. Honeywell's propulsion engines, such as the HTF7000 with over 1.7 million flight hours, prioritize safety, performance, and dependability, providing business jet operators with improved performance and fuel efficacy at a reduced expense of ownership.
Honeywell intends to be carbon-neutral in its operations and facilities by 2035. Approximately 60% of Honeywell's new product launch research and development investment goes toward items that enhance customers' environmental and social results.
Author's Detail:
Aparna Dutta / LinkedIn
Experience in Blog creation, Article Submission and Blog posting. I specialize in writing engaging blog posts for Market research and business insights. A person who believes in the principle of time and works towards perfection.