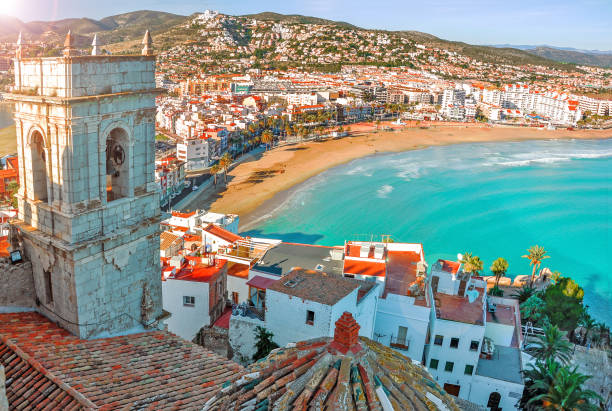 Spain is a beautiful and joyful country in Europe. Spain has a highly distinctive culture that is influenced by its inhabitants' views on life. The development of the Spanish language has greatly benefited from the influence of Spanish culture. Spain's traditions and culture are distinctive for several reasons. Particularly distinct and influential in the cultures of Latin American nations are Spanish customs. The diverse peoples that have inhabited Spain throughout its history and its unique location at the intersection of Europe, Africa, and the Mediterranean are represented in Spanish culture and civilization.
The majority of the Iberian Peninsula is occupied by Spain, which extends south from the Pyrenees Mountains to the Strait of Gibraltar. The Mediterranean Sea lies to the east of Spain. There are 17 autonomous regions in the nation, together with two autonomous cities, a tiny island off the coast of Morocco, and other entities that together make up the Places of Sovereignty. The Spanish people have a strong sense of identity with their country, even with their province of origin.
People and Values
The intricate history of Spain and its geographic spread are major factors in the complexity of Spanish culture. The Iberian Peninsula has long served as a crossing point and a bridge connecting Africa and Europe. Because of this, several civilizations, including the Phoenicians, Romans, and Arabs, have travelled through, or settled in what is now modern Spain, influencing Spanish culture. Spain is a nation of diversified culture, as some regions have different cultures and languages.
The Spanish people are renowned for their passion for life and for enjoying meals and libations with friends and family. They speak different native languages. Many of the people speak Spanish or Castellano. Catalan, Valencian, Galician, and Basque speakers all have Spanish as a second language as well. In Spanish society, time management is not a major concern because everyone is laid back and takes their time with daily duties. The Spanish family is like a huge nest, where the multiple members depend on one another for support, security, and most importantly, love. Spanish people are friendly toward foreigners and will treat them with respect and kindness.
Spanish religion and traditions
The role of religion in Spanish culture cannot be overstated. Catholic churches and cathedrals can be found in almost every Spanish city. In Spain, Catholicism is the most common religion. Due to the recent influx of refugees from Africa and the Middle East, Islam is now Spain's second-largest religion. There are also a significant number of atheists and only a small number of Jews. Traditional holidays are also so popular in Spain that festivals like Christmas, Holy Week, and Corpus Christi are celebrated jointly with other Christian and Catholic nations. Most regional holidays also have religious roots and honour the local patron saint, such as San Isidro. Popular and folkloric traditions also play a big role in Spanish culture.
There are different Spanish festivals, which are celebrated with a lot of joy and happiness. Semana Santa is one of the biggest festivals, and El Da de Reyes Magos is also celebrated across the country. This tradition is celebrated with lots of food, dance, fireworks, and gifts. La Tomatina's tomato fights are a popular tourist attraction that gathers large crowds of people to celebrate Spanish culture.
The Ethnic Cuisine of Spain
One of the most popular cuisines in the world is Spanish. Whether at a bar, restaurant, or someone's house, gatherings around a table with delectable food and beverages depict the communal lifestyle. Spanish people frequently provide meals for others as a way of expressing their affection.
Spanish food is mostly made with olive oil, garlic, onions, tomatoes, peppers, and seafood, but it also consists of meat and other animal products. Famous Spanish food dishes include gazpacho, tortilla, and paella. Tiny plates of food including olives, jamón (cured ham), vegetables, meats, cheeses, seafood, and many more traditional dishes served in small amounts are popular among Spaniards and are known as bocadillos and tapas. In meetings and festivities, alcoholic beverages play a significant role in the community-focused way of life.
Art's Glory
Spanish art is well known around the world for being diverse, inventive, and fascinating, with many works emulating that timeless quality that continually astounds spectators. The Spanish art and culture dynasty includes well-known artists like Pablo Picasso and Salvador Dali, both of whom were born in Spain. Wonderful historical structures and works of art may be found across Spain, adding to the magnificence of Western art. During the Baroque era, which grew immediately after the Renaissance, the Italian and French greatly affected Spanish art. Spain also has its contribution to architecture. The architectural legacy of Al-Andalus, which dates to Spain's long period of Arab sovereignty, is unmatched worldwide. In many places around Spain, the modernist movement has left some of the most unique architecture.
Thus, Spain is home to chic clothing, delectable cuisine, vibrant rhythms, beautiful architecture, and rich culture. Their lifestyle is very different from other European cultures and is rich in diverse religions. Spain could be your next popular tourist destination due to its pleasant weather and interesting culture. The traditions of Spain are rich and colourful, with unique types of food, drink, music, and dance.