What is the Difference Between Primary Research and Secondary Research?: Cognitive Market Research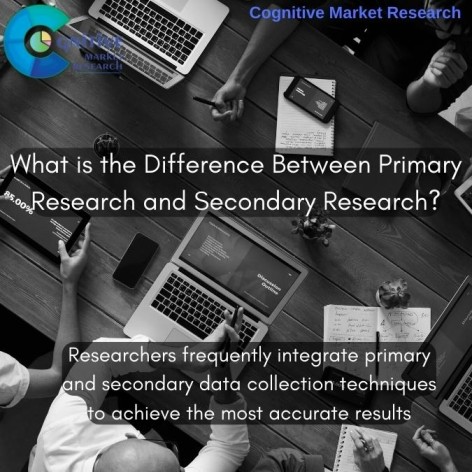 Research incorporates a wide range of approaches. Unlike scientists, sociologists frequently perform interviews and surveys. Historians rely on archived documents and objects. Researchers might employ primary or secondary research to obtain data and evaluate hypotheses.
Considering their differences, primary research vs. secondary research both give advantages that assist specific study objectives. These two types of research aid researchers in achieving their objectives, and both can be useful in ensuring that a study is well-researched.
What is Primary Research?
Primary research is defined as research that involves gathering of unique data for a especially research project. While conducting primary research, the researcher collects information firsthand instead of depending on information accessible in databases and other publications.
This form of study is frequently conducted with the objective of providing new knowledge, which is why it is also known as original research. Researchers conduct primary research to understand questions that have never been addressed or even questioned before. This level of originality distinguishes primary research from secondary research.
Types of Primary Research
Primary research can be conducted using a variety of approaches, but it is frequently dependent on scientific method principles. It means that researchers generate research questions or hypotheses, gather and analyze measurable, empirical data, and form evidence-based conclusions when conducting primary research.
Here are some of the common kinds of primary research.
Surveys:

It is a data-collection method in which people are asked to answer specific study questions on their emotions, opinions, attitudes, and behavior. Due to the predefined characteristics of the questions, this type of questioning is less flexible than interviews. Surveys, on the other hand, are beneficial for gathering data from big groups of people.

Interviews:

Interviews are a straightforward approach to gather information from individuals or small groups. Interviews can also be used by researchers to obtain expert viewpoints on their research subjects.

Observations:

The primary research technique includes observing people, situations, and other variables that are relevant to the research or study. The process of determining and recording quantitative or qualitative data is known as observation. This research method is excellent for learning without the biased viewpoint that can sometimes be found in interviews.

Data analysis:

Data analysis entails gathering data and arranging it according to requirements set by the researcher. The primary research strategy is effective for identifying trends or patterns in data.

Focus groups:

Focus groups of up to 12 participants can also be used by researchers to acquire data. The researcher generally facilitates a guided discussion on the topic in focus groups. This qualitative data collection strategy is frequently utilized to acquire a better understanding of societal problems.
Advantages of Primary Research
Primary research is more relevant:

If business have a very precise query regarding how consumers in a particular section search for the product category, they would be quite lucky to discover the answers in someone else's study. Primary research allows researchers to choose which questions are asked and to whom, making it extremely relevant to the research objectives.

Primary research is updated:

Many markets are fast changing, and trends appear and go. Primary research enables businesses to conduct research at a time that is convenient to them. Consider e-commerce market research: statistics from 2019 and 2020 will most likely be drastically altered due to the pandemic. Performing primary research in a timely and preferably constant method minimizes such issues.

Primary research offer better ownership and control over data:

Can you rely on a source? While using secondary research, this is always the major question. Primary research provides complete transparency into how it was gathered, allowing businesses to make confident decisions depending on it.
What is Secondary Research?
While primary research requires active engagement of the researcher, secondary research includes the summary or synthesis of data and literature that has already been gathered and published by others. Researchers use and analyze data from primary research sources while conducting secondary research.
Secondary research is frequently utilized in a wide range of fields and sectors, including legal research and market research. A systematic review, for example, is among the most popular methods of secondary research in the sciences. In a systematic review, scientists use systematic procedures to analyze current literature and research on a certain issue, evaluating all relevant studies to summarize their conclusions.
Sources of Secondary Research
When it comes to secondary research, researchers have a plethora of options to consider. Secondary research can be supported by the following resources:
Academic peer-reviewed journals

:

These frequently involve unique research conducted by the authors or researchers directly.

Published books and articles:

Numerous books include primary-source materials as well as the author's analysis.

Government agencies:

Several government organizations have archives or databases of documents and reports that records relevant data that researchers might use.

Commercial information sources:

Secondary research can also benefit from information sources like newspapers, magazines, and television shows. These sources, for example, include first-hand information and insights on political goals, market research, and economic changes.
Secondary research is now considerably easier for researchers because to the Internet. Several government organizations and educational institutions, for example, make their data available online so that researchers can simply download information. There are even web apps for generating world clouds to display the popularity of keywords for subjects in database.
Advantages of Secondary Research
Secondary research is better for exploratory research:

A significant advantage of secondary research is that it may be used early in the research process to evaluate specific ideas and hypotheses before investing time and money in primary research to complete the research. Businesses can use existing data to fill knowledge gaps and define the direction of their research.

Secondary research is cost-efficient:

The Google search is completely free! Of course, businesses may come across certain studies or research that are locked behind a paywall, but it is frequently far less expensive than conducting personal research.

Businesses have access to immense information

:

Businesses may accomplish a significant portion of their research utilizing just data that is already in the public domain if they know where to go and what keywords to use.

Save time with secondary research:

Most of the information businesses are looking for is probably already available, and they may not be necessary to ask the respondents additional questions. This will also prevent businesses from duplicating information. However, use data with caution: ensure it is relevant and recent; otherwise, it may be better to conduct personal research.
How to Use Primary and Secondary Research?
Based on their objectives, a researcher can employ either primary or secondary research methodologies. For example, if a researcher wants to make new discoveries or examine new aspects of their area of study, primary research is perfect. Primary research can also be utilized to generate authoritative and credible evidence on a particular subject.
Furthermore, primary research can be utilized to provide data that is not only credible but also specialized and relevant to the goals of the researcher. Primary research is also appropriate for researchers who require a high level of control over data collection techniques due to the personalized nature of research tools like questionnaires and interviews.
Researchers who wish to learn more about their selected topic should begin with secondary research. Secondary research allows researchers to identify and comprehend how their peers have previously tackled the topic. Secondary research also enables researchers to get data in less time and at a cheaper expense. Regardless of their differences, both primary and secondary research will be valuable in the research process.
Author -
Surabhi Bhaiyya / LinkedIn
Cognitive Market Research
Phone: +1 312-376-8303
Email: sales@cognitivemarketresearch.com
Follow Us: LinkedIn