How Big Data is Improving Market Research: Cognitive Market Research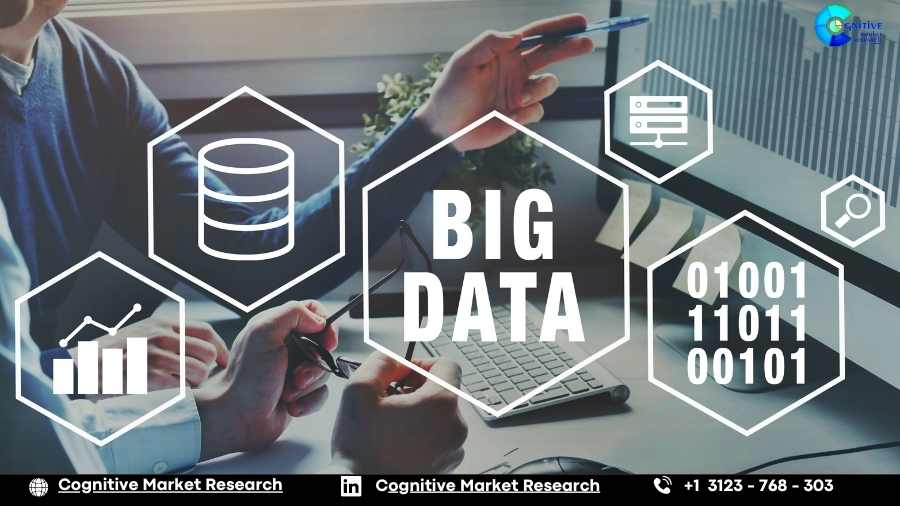 Considering the huge amounts of customer data that are readily accessible and can be utilized for connecting patterns to changing consumer habits inside new markets, big data has emerged to be one of the crucial forces driving advancement and evolution for sales and marketing operations.
Marketers will be able to precisely evaluate full demographics and communities instead of depending on little sample segments thanks to the growth of the big data market.
Big data when combined with the appropriate market research enhances business operations skills by creating a massive data set that can be evaluated to make better decisions that are normally determined by a small sample size. Big data helps organizations to make efficient competitive tactics and targeted marketing plans by providing every minute information from an enormous data source about the target market, customers, rivals, and trends.
Likewise, market research can address big data issues by implementing psychometric techniques that work and identifying specific data-gathering settings that will improve the analysis value of the data-validated material.
How Big Data Improves Market Research?
Big data and market research work with each other efficiently. Big data is essential to the research and analysis process since it helps in the evaluation of an entire group of data, instead of just a limited or chosen subset.
Therefore, big data offers two major advantages to market research. The initial one is offering more extensive data to make informed choices. The second advantage is the capability to combine different databases for referential analysis and the availability of different types of data within one database. Organizations utilize big data to carry out numerous types of market analysis to boost sales, competition, and future development.
Customer marketing Data
Consumer marketing data make it possible to thoroughly plan the customer experience throughout all touchpoints and channels, determine particular consumer demographics, assist in the development of customization tactics, enhance usage and involvement, and boost revenues.
Business Marketing Analysis
Business market analysis identifies target markets for each industrial sector in order to evaluate economic prospects, threats, and consumer and rival patterns. Market analysts must use big data to research historical data for the target region before making a strategic decision.
Qualitative Market Research
In order to fully comprehend your consumers and their behaviors, qualitative market research can assist you in learning the driving forces of consumer buying choices and how they communicate with a brand throughout touchpoints.
SWOT Analysis
The strengths, weaknesses, opportunities, and threats related to your company, strategy, and strategic goals are listed in a SWOT analysis of market research. SWOT analysis outcomes are more precise and objective when big data has been divided into structured categories.
Product Marketing Data
Product marketing data support the development of product launch efforts, enhances messaging, targets particular content, and improves sales tactics. Big data provides a wealth of information for improved product marketing, including details about comparable products on the market, trends, customer tastes, and other competitor-related data.
Competitor Market Analysis
To find appealing new market prospects, competitor analysis market research can assist organizations to understand rival strategies, pricing, products and services, assets, and vulnerabilities.
Combining Big Data with Market Research Goals
Big data must be linked with the goals of market research in order to make logical sense when it is used as the foundation for detailed analysis in market research. For market research analysis to produce trustworthy and precise findings in this situation, data quality is crucial.
Customer engagement and behavior metrics cannot be determined merely by the volume of data that has been gathered. Rather, firms must focus on defining the parameters for data collecting at the very beginning, as this is what drives big data projects.
In addition to data collecting, another goal that can be accomplished by various market research techniques, including primary market research or research tools, is the validation of data. This makes it easier to guarantee that market research is efficient, reliable, and captures the precise data and details that organizations require to produce findings that are really data-driven.
Here are some instances that highlight how crucial it is to coordinate data gathering and data validation processes in order to make big data truly relevant and helpful in achieving goals.
A single question cannot measure all the variables
To gauge the outcome of a query, organizations must go beyond asking one question. A single question could generate several responses, all of which have nothing to do with the original query. Or they can get quite diverse answers if the question they ask has numerous possible interpretations. To make sure that the choices depend on the correct measures of the first query, it is crucial to have many inquiries that assess various aspects of a similar idea, hypothesis, or problem.
Precise scaling is necessary
Scaling is crucial because market researchers need to understand exactly what they are evaluating. You can use scaling to create an initial measurement that will serve as an outline or point of comparison for the outcomes of your own calculations. Organizations can't accurately interpret what the measurement findings are attempting to indicate when they don't have anything to compare them to.
Factors that are evaluated are more important rather than measuring everything
Simply put, it is impractical to evaluate all the data that businesses gather without a strategy in place. In order to avoid getting incorrect outcomes that create more issues instead of solving them, companies must specify precisely what they want to evaluate. What you wish to infer from the data must be carefully considered, and the implications of the measurements must also be taken into account.
Author's Detail:
Surabhi Bhaiyya, LinkedIn
Senior Research Analyst at Cognitive Market Research
Surabhi Bhaiyya is an experienced market researcher focused on the Pharma & Healthcare industry. With over 7+ years of experience, She has worked with major pharmaceutical companies and healthcare providers, helping them to understand market trends, identify new business opportunities, and develop effective sales & marketing strategies. Her expertise lies in the ability to analyze complex data sets and deliver insights that drive business decisions. At Cognitive Market Research, she handles the market research related to Pharma and healthcare industry. To get in touch and access the above report book an apointment at https://calendly.com/speak-to-analyst.