Digital Tools that are Improving Post-Pandemic Market Research: Cognitive Market Research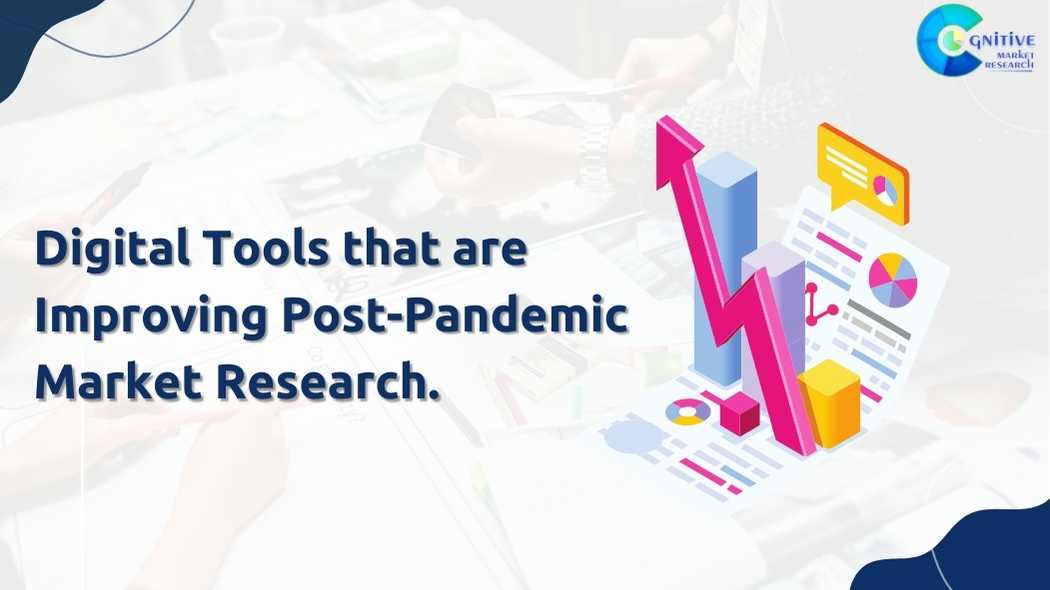 Due to the pandemic's effect on customer behaviour and physical connections, the market research sector is dealing with difficult circumstances. Thankfully, market researchers are not panicking about what to do or how to proceed with their market studies. This is possible because prior to COVID-19, various market research instruments assisted them in conducting research without the need for personal interactions and on-site surveys.
There are many market research tools available in the market that has become more widely used as a result of the outbreak and may fully replace conventional approaches as the society adjusts to the new normal.
Let's look at some of the tools that market researchers are using and can continue to utilize in the future while conducting their research work.
Survey Gamification
Surveys are definitely one of the most powerful methods for acquiring huge quantities of data, particularly when performed online or via mobile devices. Since almost every organization performs online surveys, primarily during the outbreak of COVID-19 when on-site surveys were nearly impossible to carry out, acquiring responses is becoming increasingly difficult. This is the point where the idea of survey gamification comes into play.
Based on research, survey gamification has the potential to enhance participant engagement and revenue by up to 92%. Providing a sensation of achievement, enjoyment, and reward can help firms gather more data while also increasing consumer retention and satisfaction.
Better response rates, completion rates, self-reported contentment, data quality and reliability, and subsequent response rates are just a few of the important advantages of survey gamification. Market researchers in their survey gamification process can include fun and interactive animated survey mechanics that can question participants about the things they like watching.
Internet of Things and Geolocation
Even though self-reporting was once the most frequent means of reaching, assessing, and comprehending a targeted customer, now ethnographic and observational research are quickly becoming top market research approaches. It is because both are being supported by advancements in the IoT and geolocation. Market researchers gain a better understanding of consumer patterns with the incorporation of mobile devices in ethnographic research that delivers unique insights and qualitative data combined with geolocation abilities. Connecting with participants is becoming easier thanks to the widespread accessibility of mobile devices worldwide.
During the pandemic, logistics providers elevated their dedication to supporting e-commerce, and they are now employing IoT and geolocation solutions to monitor customer habits and improve their business operations. Although retail sales have decreased as a result of the epidemic, geolocation has played an important role in locating those diagnosed with COVID-19. Countries such as South Korea and China effectively utilized GPS data to trace the infection route of the virus, but the UK struggled to implement this monitoring system due to privacy concerns.
Geolocation is an effective instrument for measuring and comprehending group behavior, market dynamics, and the influence of government initiatives. Information can be utilized in a variety of ways as long as it is used properly and transparently.
Online Collaboration Tools
It really is no wonder that apps such as Zoom, Skype, Slack, and Google Meet thrived during the outbreak of COVID-19. As body interaction has been limited and work-from-home arrangements were welcomed, if not mandated, these applications have provided a sense of conventional social interactions and allowed companies to develop, particularly in the educational and commercial industries.
Online communication solutions such as Zoom can let market researchers perform cost-efficient focus group discussions and surveys throughout relevant market segments at any given location and time. Researchers can collect extensive qualitative and quantitative data without having to worry about respondent logistics or location constraints, let alone contamination threats.
Virtual Reality
Prior to big projects like the PlayStation VR and Oculus Rift being popular, virtual reality technology had advanced exponentially. Today brands are using this technology in market research with remarkable success. Companies may evaluate nearly anything, from customer support situations to quality checks, with better accuracy by utilizing VR at the market research stage compared to conventional concept testing.
According to a comprehensive analysis conducted by Goldman Sachs in 2015, the VR market would be worth 22.46 billion USD by 2025, producing massive revenue for the games, events, health, and entertainment industries.
Social Media Mining and Content Analysis
Due to the increased and regular use of social media during the epidemic, market researchers have successfully gathered a huge amount of data at their disposal for social media mining and content analysis. Organizations now have more broad access to clients than at any time before because of social media platforms.
Furthermore, as more customers use social media for purchasing, businesses may already analyze their preferences and alter their brand and inventory accordingly. Connecting with customers via social media can result in consumer-driven and motivated developments when addressed with a clear goal. Deep-diving into images acquired from research participants is one of the best methods for performing content analysis.
Author's Detail:
Aparna Dutta / LinkedIn
Experience in Blog creation, Article Submission and Blog posting. I specialize in writing engaging blog posts for Market research and business insights. A person who believes in the principle of time and works towards perfection.